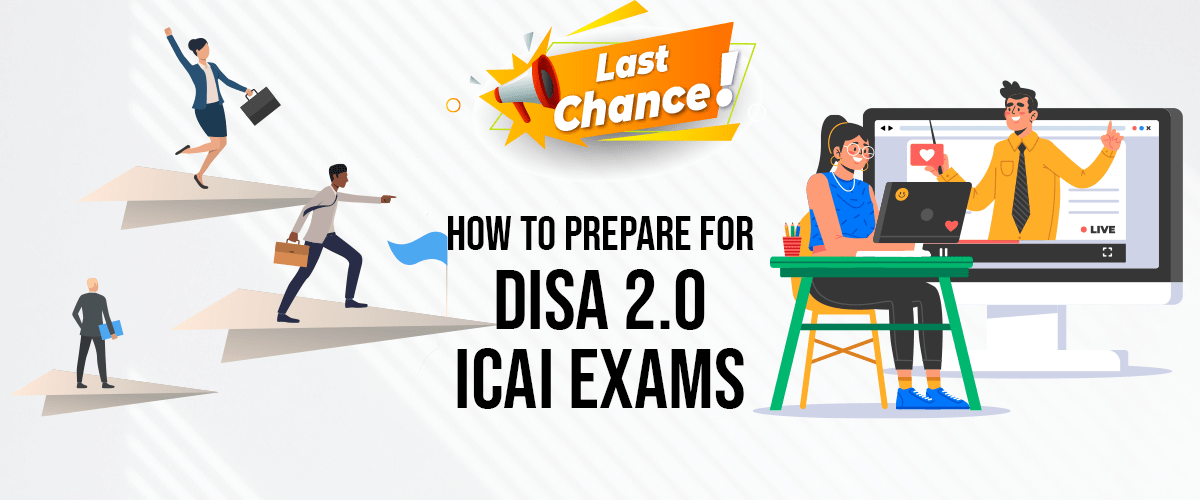 Notification for the Members Registered under ISA 2.0
Dear Member,
Greetings from Digital Accounting and Assurance Board, ICAI
As per the decision made by the competent authority, the members who have completed their professional training (PT) under ISA 2.0 i.e. Old Syllabus would be given a total of three attempts to clear the Information Systems Audit 2.0 Eligibility Test out of which 01 attempt has already been conducted by the DAAB (Digital Accounting and Assurance Board) in May 2021.
The members who are the prospective candidates for the upcoming Information Systems Audit Eligibility Test under the Old Syllabus i.e. ISA 2.0 are now left with two attempts that would be conducted in the near future. Further, the members who will not be able to clear the ISA 2.0 Eligibility Test in the above-given attempts would be required to appear in the ISA Eligibility Test under the New Syllabus i.e. ISA 3.0.
All the best!!
Regards,
Digital Accounting and Assurance Board, ICAI
Strategy to Clear DISA ICAI in first Attempt
Only Qualified Chartered Accountants who are members of ICAI can do DISA ICAI course which is a Post qualification course.
Time management becomes the biggest issue for members. Generally, Chartered Accountants have a very hectic schedule, and then taking out time for preparation for DISA exams, is very hard to do.
Also, DISA AT to be held on 9th July 2022 is the last attempt for members enrolled in DISA 2.0. So there is an error of margin & you should prepare yourself with the maximum possibility of passing exams.
How to Study for DISA ICAI in less time?
Don't worry, Prokhata is here to solve this problem of yours. We have everything sorted for you related to your DISA exams. From DISA E-learning to DISA AT exams we have everything which will help you with your preparations.
So firstly, get our DISA course package from prokhata.com designed to support you throughout your DISA journey.
The course consist of : Video Lectures, Chartbook & DISA Question Bank
Video lectures that cover the complete course of ISA 2.0 in just 37 hours.
Colorful chartbook to get a full overview of the DISA ICAI course syllabus.
Module-wise question-bank which contains two types of questions:
1. Normal question (Difficulty level: Normal)
2. Mock test papers ( Difficulty level: Hard)
With the help of DISA ICAI Chartbook, have a review of the complete DISA ICAI syllabus which you have to study for more clarity. This chartbook will help you to understand what course demands from you & what level of preparation you have to do.
Then, start watching our video lectures & keep modules provided by ICAI with you while watching the videos. These lectures will help you to understand each and every concept easily and will save your time. The total duration of video lectures is 37 hours. The bifurcation of time for every module is shown in the below image:
Complete all the modules one by one and solve the respective module-wise question bank after each module you complete.
There are total of 178 questions available in our ISA 2.0 Question bank. So if on average it takes one minute to solve one question, it will take a total of 1718 minutes i.e. 29 hours approx. to solve all the questions.
So that means 37 hours of lectures & 29 hours for question bank, it will only take 66 hours to complete the preparations for your DISA Exams.
So if you just give 2 to 2.5 hours daily towards preparations for this course, it will take just one month for you to get ready for your DISA Exams.
Alternatively, you can give 8 to 9 hours per day for 4 weekends (one month).
Also, if possible, take a leave for 1 week before your DISA 2.0 exams from your work and give 9 to 10 hours a day.
Features of our ISA 2.0 Mock Test Papers
In our question bank, we have provided the largest module-wise question bank for ISA 2.0 for better preparations for your exams.
These are the only ISA 2.0 Mock Test Papers available in the market for DISA 2.0 which is designed module-wise.
There is no limit on the number of times you want to solve the question bank.
You can also track your progress by clicking on the dashboard menu on our website https://prokhata.com/
Auto evaluate your mock test & track your progress in my quizzes
Bookmark features to revisit selected questions.
Evaluate yourself with your friends in quiz statistics on the leadership board.
Practice selected questions for your exams.
If you want to practice more questions, we also have question banks for CISA course available on our website:
How to prepare the ISA 2.0 Project report for the DISA course?
Also, there is Project Work required to be submitted during DISA PT which have a weightage of 10 marks in your DISA course and a Viva is taken on the basis of that project report which also contains 10 marks. You can see some sample DISA 2.0 Project Report on our website https://prokhata.com/category/disa-project-report/
So here we have told you everything related to how you have to prepare for your DISA ICAI exams.
How to Resolve Query for DISA course?
Join our community on Whatsapp & Telegram for regular updates & queries on this DISA 2.0 course.
Whatsapp:  https://chat.whatsapp.com/LwFN1JUI4P6DViEEZIGWaZ
Telegram:  https://t.me/isaoldcourse
Also, you can see our video on Strategy to prepare for DISA 2.0 Exams.