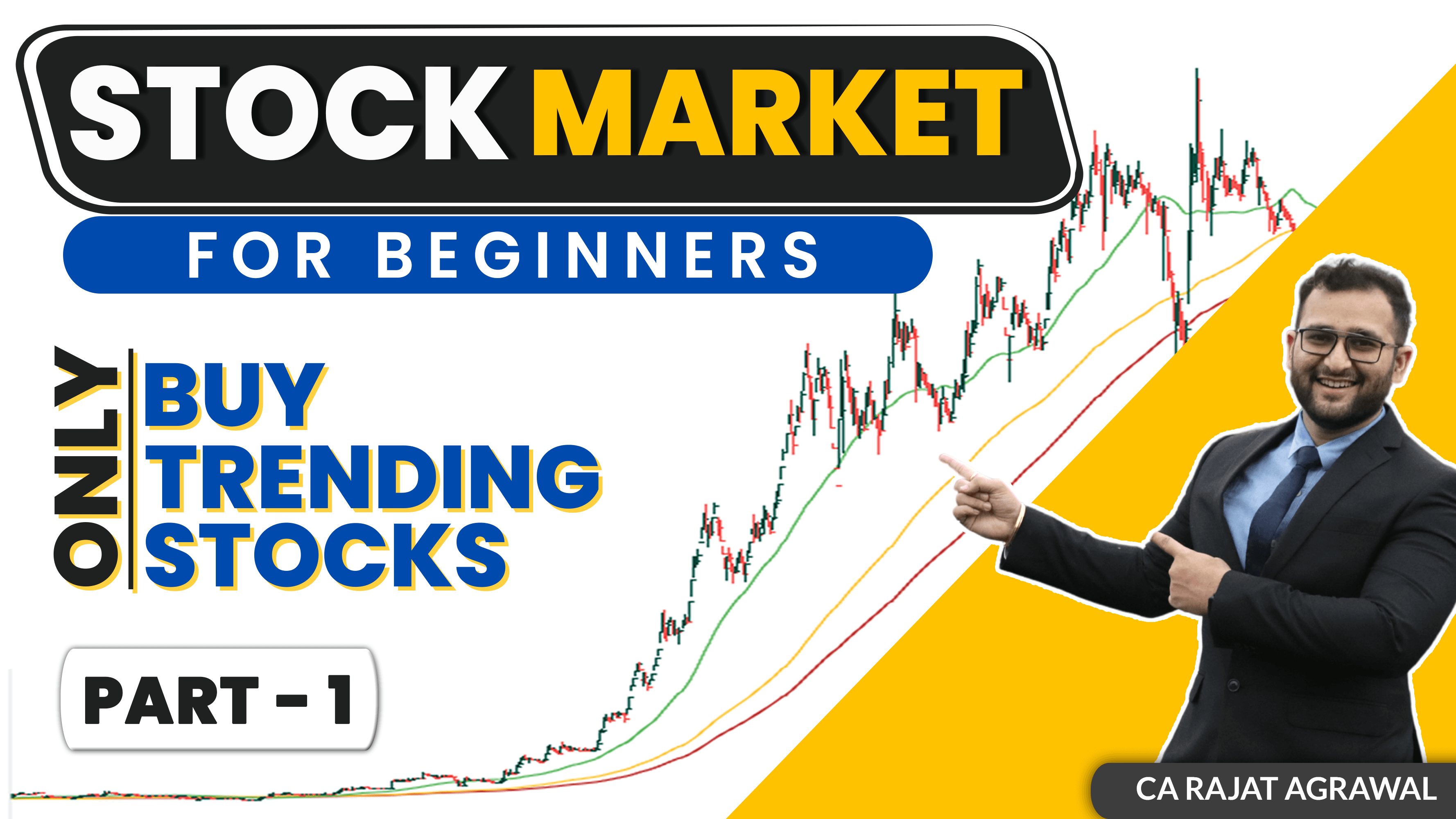 "Stock Market For Beginners 2022 [Part 1] only Buy Trending Stock Chart Analysis By CA Rajat Agrawal
It is nearly impossible to pick the top or bottom of any Share. But an understanding of stock Market Stages is essential if you want to maximize your investment or trading returns. Here are the four major components of a share market stages and as a beginner how you can recognize them.
? ????? ?????? Introduction (??:??) –
? ????? ?????? ????? ?-? (??:??) –
✘ Neglect Phase : Consolidation
✔ Advancing Phase : Accumulation
✘ Topping Phase : Distribution
✘ Decline Phase : Capitulation
To understand the psychology of Stock market it's very important to understand a broader perspective of market and analyze each and every stock, but its very tedious job so we can select stocks with high probability or we can say upward trending stocks which can be found with the help of this stage analysis.
List of Trending Stocks
✔ Advancing Phase : Accumulation
| | | |
| --- | --- | --- |
| Sno | Symbol | CompanyName |
| 1 | 505725 | Algoquant Fintech |
| 2 | 514316 | Raghuvir Synthetics |
| 3 | ASAL | Autv.Stmps.& Asmbs. |
| 4 | XPROINDIA | Xpro India Limited |
| 5 | BCG | Brightcom Group |
| 6 | TTML | Tata Tele Svs. (Nse) Maharastra |
| 7 | 526407 | Ritesh Props.& Inds. |
| 8 | 509051 | Indian Infotech & Sftw. |
| 9 | ROHITFERRO | Rohit Ferro-Tech |
| 10 | LSIL | Lloyds Steels Industries |
| 11 | 526025 | Globus Constructors & Developers |
| 12 | 534618 | Waaree Renewable Technologies |
| 13 | LYKALABS | Lyka Labs |
| 14 | NGIL | Nakoda Group Of Industries |
| 15 | GREENPOWER | Orient Green Power |
| 16 | MEGASOFT | Megasoft |
| 17 | 541778 | Deep Polymers Ltd |
| 18 | 542721 | Anand Rayons |
| 19 | 532029 | Sindhu Trade Links |
| 20 | 541206 | Orissa Bengal Carrier |
| 21 | 531449 | GRM Overseas |
| 22 | 539841 | Lancer Container Lines |
| 23 | 522105 | Birla Precision Techs. |
| 24 | KPIGLOBAL | Kpi Global Infrastructure |
| 25 | 526433 | A S M Technologies |
| 26 | ISMTLTD | Ismt |
| 27 | 500223 | Jct |
| 28 | 539177 | Authum Invs & Infra |
| 29 | 530185 | Surat Textile Mills |
| 30 | OLECTRA | Olectra Greentech |
| 31 | 537800 | Mangalam Industries |
| 32 | SINTEX | Sintex Industries (Nse) |
| 33 | 530579 | UY Fincorp |
| 34 | FCSSOFT | Fcs Software Solutions |
| 35 | 539956 | Taal Enterprises |
| 36 | GOODLUCK | Goodluck India |
| 37 | TRIDENT | Trident |
| 38 | 539006 | Ptc Industries |
| 39 | JINDWORLD | Jindal Worldwide |
| 40 | SPTL | Sintex Plastics Technology |
| 41 | 506808 | Tuticorin Alkali Chemicals and Fertilizers |
| 42 | 523606 | Sika Interplant Systems |
| 43 | SHAREINDIA | Share India Securities |
| 44 | 532407 | Moschip Technologies |
| 45 | SBCL | Shivalik Bimetal Cntls. |
| 46 | ALMONDZ | Almond Global Securities |
| 47 | 522134 | Artson Engineering |
| 48 | UNIVPHOTO | Universus Photo Imagings |
| 49 | JTLINFRA | Jtl Infra |
| 50 | SANGAMIND | Sangam (India) |
| 51 | SAREGAMA | Saregama India (Nse) |
| 52 | BETA | Beta Drugs |
| 53 | CREATIVE | Creative Newtech |
| 54 | STEELXIND | Steel Exchange India |
| 55 | GENESYS | Genesys International |
| 56 | 506852 | Punjab Alks.& Chems. |
| 57 | SITINET | Siti Networks |
| 58 | NDL | Nandan Denim |
| 59 | 511768 | Master Trust |
| 60 | MANINFRA | Man Infraconstruction |
| 61 | MINDTECK | Mindteck India |
| 62 | OSWALAGRO | Oswal Agro Mills |
| 63 | 512267 | Media Matrix Worldwide |
| 64 | KSOLVES | Ksolves India |
| 65 | GOKEX | Gokaldas Exports |
| 66 | TIPSINDLTD | Tips Industries |
| 67 | KPITTECH | Kpit Technologies Limited |
| 68 | TI | Tilaknagar Inds. |
| 69 | KDDL | Kddl |
| 70 | JBMA | Jbm Auto Limited |
| 71 | URJA | Urja Global |
| 72 | FLUOROCHEM | Gujarat Fluorochemicals |
| 73 | ISFT | Intrasoft Technologies |
| 74 | EKC | Everest Kanto Cyld.(Nse) |
| 75 | HUBTOWN | Hubtown |
| 76 | POKARNA | Pokarna Limited |
| 77 | CGPOWER | CG Power and Industrial Solutions |
| 78 | LGBFORGE | Lgb Forge |
| 79 | TANLA | Tanla Platforms |
| 80 | MARALOVER | Maral Overseas (Nse) |
| 81 | VISHNU | Vishnu Chemicals |
| 82 | 520073 | Racl Geartech |
| 83 | NAHARCAP | Nahar Cap.& Finl.Svs. |
| 84 | BORORENEW | Borosil Renewables |
| 85 | PITTIENG | Pitti Engineering |
| 86 | EXPLEOSOL | Expleo Solutions |
| 87 | SASTASUNDR | Sastasundar Ventures |
| 88 | BCLIND | Bcl Industries |
| 89 | 532435 | Sanmit Infra |
| 90 | PGEL | Pg Electroplast |
| 91 | 502865 | Forbes & Company |
| 92 | BSE | Bse |
| 93 | 63MOONS | 63 Moons Technologies |
| 94 | DPABHUSHAN | D P Abhushan |
| 95 | 503804 | Shri Dinesh Mills |
| 96 | ALLCARGO | Allcargo Logistics |
| 97 | KPRMILL | Kpr Mill |
| 98 | PASUPTAC | Pasupati Acrylon |
| 99 | GRAVITA | Gravita India |
| 100 | ADSL | Allied Digital Services |
| 101 | MIRZAINT | Mirza International(Nse) |
| 102 | 505036 | Automobile Corp.Of Goa |
| 103 | PARSVNATH | Parsvnath Developers |
| 104 | TCI | Transport Corporation Of India |
| 105 | PDSMFL | Pds Mltnat. Fashions |
| 106 | RAMKY | Ramky Infrastructure |
| 107 | GOKULAGRO | Gokul Agro Resources |
| 108 | 519216 | Ajanta Soya |
| 109 | RPPL | Rajshree Polypack |
| 110 | 500414 | Timex Group India |
| 111 | BIGBLOC | Bigbloc Construction |
| 112 | GREENPANEL | Greenpanel Industries |
| 113 | RGL | Renaissance Global |
| 114 | ATGL | Adani Total Gas |
| 115 | BBTCL | B&B Triplewall Containers |
| 116 | RSWM | Rswm (Nse) |
| 117 | NETWORK18 | Network 18 Media & Invs. |
| 118 | GULPOLY | Gulshan Polyols |
| 119 | KOTHARIPET | Kothari Petrochemicals |
| 120 | TDPOWERSYS | Td Power Systems |
| 121 | MINDAIND | Minda Industries |
| 122 | 500333 | Pix Transmissions |
| 123 | KOPRAN | Kopran (Nse) |
| 124 | PRECAM | Precision Camshafts |
| 125 | BOROLTD | Borosil |
| 126 | KABRAEXTRU | Kabra Extrusion Technik |
| 127 | RSYSTEMS | R Systems International |
| 128 | POONAWALLA | Poonawalla Fincorp |
| 129 | DBREALTY | D B Realty |
| 130 | PERSISTENT | Persistent Systems |
| 131 | MONTECARLO | Monte Carlo Fasions |
| 132 | AGARIND | Agarwal Industrial |
| 133 | WEBELSOLAR | Websol Energy Systems |
| 134 | 514036 | Loyal Textile Mills |
| 135 | USHAMART | Usha Martin (Nse) |
| 136 | RUSHIL | Rushil Decor |
| 137 | THEJO | Thejo Engineering |
| 138 | 526783 | Dr.Agarwal's Eye Hosp. |
| 139 | 514448 | Jyoti Resins & Adhesives |
| 140 | 517500 | Roto Pumps |
| 141 | HFCL | HFCL |
| 142 | ONWARDTEC | Onward Technologies(Nse) |
| 143 | ZOTA | Zota Health Care Ltd |
| 144 | SARLAPOLY | Sarla Performance Fibres |
| 145 | CEBBCO | Coml.Engs.&.Body Bldrs. |
| 146 | 530845 | Sunshield Chemicals |
| 147 | MEDICAMEQ | Medicamen Biotech |
| 148 | TCIEXP | Tci Express |
| 149 | MIRCELECTR | Mirc Electronics (Nse) |
| 150 | PATELENG | Patel Engineering (Nse) |
| 151 | BSHSL | Bombay Super Hybrid Seeds |
| 152 | IMFA | Indian Mtls.& Fealy. |
| 153 | JSL | Jindal Stainless |
| 154 | SPAL | Sp Apparels |
| 155 | VIMTALABS | Vimta Labs |
| 156 | 540078 | Mitsu Chem Plast |
| 157 | NDTV | New Delhi Tv. (Nse) |
| 158 | GOKUL | Gokul Refoils & Solvent |
| 159 | 504918 | Sandur Mang.& Iron Ores |
| 160 | VIDHIING | Vidhi Specialty Food Ingredients |
| 161 | TRIVENI | Triveni Engr.& Inds. |
| 162 | MOLDTKPAC | Mold-Tek Packaging (Nse) |
| 163 | PRECWIRE | Precision Wires India |
| 164 | JUBLINDS | Jubilant Industries |
| 165 | AXISCADES | AXISCADES Technologies |
| 166 | HGS | Hinduja Global Solutions |
| 167 | CDSL | Central Depository Services (India) |
| 168 | RADICO | Radico Khaitan (Nse) |
| 169 | BHAGCHEM | Bhagiradha Chems.& Inds. |
| 170 | 532372 | Virinchi |
| 171 | MTNL | Mahanagar Tel Nigam(Nse) |
| 172 | 539730 | Fredun Pharmaceuticals |
| 173 | ADANIENT | Adani Enterprises (Nse) |
| 174 | HITECHCORP | Hitech Corporation |
| 175 | AURIONPRO | Aurionpro Solutions |
| 176 | RELINFRA | Reliance Infrastructure |
| 177 | PTL | Ptl Enterprises |
| 178 | KEI | Kei Industries |
| 179 | NEOGEN | Neogen Chemicals |
| 180 | NIITLTD | Niit (Nse) |
| 181 | BANSWRAS | Banswara Syntex |
| 182 | SOBHA | Sobha |
| 183 | MANORG | Mangalam Organics |
| 184 | TALBROAUTO | Talbros Autv.Compns. |
| 185 | POLYPLEX | Polyplex |
| 186 | GRINDWELL | Grindwell Norton |
| 187 | 506642 | Sadhana Nitro Chem |
| 188 | PRIVISCL | Privi Speciality Chemicals |
| 189 | GINNIFILA | Ginni Filaments |
| 190 | MASTEK | Mastek (Nse) |
| 191 | NAHARPOLY | Nahar Poly Films |
| 192 | SHARDAMOTR | Sharda Motor Industries |
| 193 | ARIHANTCAP | Arihant Capital Markets |
| 194 | ECLERX | Eclerx Services |
| 195 | CEREBRAINT | Cerebra Integ.Techs. |
| 196 | LTTS | L&T Technology Services |
| 197 | FIEMIND | Fiem Industries |
| 198 | LGBBROSLTD | Lg Balakrisnan & (Nse) Bros. |
| 199 | LAOPALA | La Opala Rg |
| 200 | FCL | Fineotex Chemical |
| 201 | BASML | Bannari Amman Spng.Mls. |
| 202 | SIRCA | Sirca Paints India |
| 203 | ESABINDIA | Esab India (Nse) |
| 204 | BUTTERFLY | Btfy.Gandhimathi App. |
| 205 | HCC | Hindustan Con. (Nse) |
| 206 | BBL | Bharat Bijlee (Nse) |
| 207 | 505283 | Kirloskar Pneumatic |
| 208 | VTL | Vardhman Textiles (Nse) |
| 209 | VRLLOG | Vrl Logistics |
| 210 | ANDHRSUGAR | Andhra Sugars |
| 211 | BSOFT | Birlasoft |
| 212 | SRF | Srf (Nse) |
| 213 | CARBORUNIV | Carborundum Universal |
| 214 | NATIONALUM | National Aluminium (Nse) |
| 215 | GATI | Gati |
| 216 | BLKASHYAP | B L Kashyap & Sons |
| 217 | EMAMIREAL | Emami Realty |
| 218 | ALICON | Alicon Castalloy |
| 219 | RIIL | Reliance Indl.Infr.(Nse) |
| 220 | UGROCAP | Ugro Capital |
| 221 | ORICONENT | Oricon Enterprises |
| 222 | PENINLAND | Peninsula Land |
| 223 | BRIGADE | Brigade Enterprises(Nse) |
| 224 | GREENLAM | Greenlam Industries |
| 225 | RAYMOND | Raymond (Nse) |
| 226 | 523329 | Eldeco Housing & Inds. |
| 227 | GDL | Gateway Distriparks(Nse) |
| 228 | TVTODAY | Tv Today Network (Nse) |
| 229 | CANTABIL | Cantabil Retail India |
| 230 | APARINDS | Apar Industries (Nse) |
| 231 | LTI | Larsen & Toubro Infotech |
| 232 | SUPRAJIT | Suprajit Engineering |
| 233 | DYNPRO | Dynemic Products Limited |
| 234 | EIFFL | Euro India Fresh Foods |
| 235 | CENTURYTEX | Century Text. (Nse) |
| 236 | SANGHVIMOV | Sanghvi Movers |
| 237 | ALLSEC | Allsec Technologies |
| 238 | APLAPOLLO | Apl Apollo Tubes |
| 239 | HCL-INSYS | H C L Infosystems |
| 240 | SHRIRAMEPC | Shriram Epc |
| 241 | HBLPOWER | Hbl Power Systems |
| 242 | ELGIEQUIP | Elgi Equipments (Nse) |
| 243 | 522281 | Ram Ratna Wires |
| 244 | 539400 | Mallcom India |
| 245 | GUFICBIO | Gufic Biosciences |
| 246 | MINDACORP | Minda Corporation |
| 247 | KRISHANA | Krishana Phoschem |
| 248 | KENNAMET | Kennametal India |
| 249 | SCHAEFFLER | Schaeffler India |
| 250 | GMBREW | G M Breweries |
| 251 | ASAHIINDIA | Asahi India Glass |
| 252 | ANANTRAJ | Anant Raj |
| 253 | SUTLEJTEX | Sutlej Textiles & Inds. |
| 254 | TIINDIA | Tube Investments Of India Ltd |
| 255 | DONEAR | Donear Industries (Nse) |
| 256 | COFORGE | Coforge |
| 257 | KITEX | Kitex Garments |
| 258 | NACLIND | Nacl Industries |
| 259 | CREST | Crest Ventures |
| 260 | MBLINFRA | Mbl Infrastructures |
| 261 | POWERINDIA | Hitachi Energy India |
| 262 | TECHM | Tech Mahindra |
| 263 | MARATHON | Marathon Nextgen Realty |
| 264 | VEDL | Vedanta |
| 265 | SFL | Sheela Foam Ltd |
| 266 | ARTEMISMED | Artemis Medicare Services |
| 267 | HIRECT | Hind Rectifiers |
| 268 | VOLTAMP | Voltamp Transformers |
| 269 | DIXON | Dixon Technologies (India) |
| 270 | UNITECH | Unitech (Nse) |
| 271 | ZENSARTECH | Zensar Technologies |
| 272 | 515043 | St.Gobain Sekurit India |
| 273 | JPPOWER | Jaiprakash Pwr. (Nse) Vent. |
| 274 | ZEEMEDIA | Zee Media Corporation |
| 275 | COFFEEDAY | Coffee Day Enterprises |
| 276 | 538566 | Apollo Tricoat Tubes |
| 277 | GMRINFRA | Gmr Infrastructure |
| 278 | ZUARIGLOB | Zuari Global |
| 279 | FOODSIN | Foods & Inns |
| 280 | HINDOILEXP | Hindustan Oil Exp. |
| 281 | ESCORTS | Escorts |
| 282 | 532468 | Kama Holdings |
| 283 | INTLCONV | International Conveyors |
| 284 | ABB | Abb India |
| 285 | RAJESHEXPO | Rajesh Exports (Nse) |
| 286 | PRESTIGE | Prestige Estates Prjs. |
| 287 | BANARISUG | Bannari Amman (Nse) Sugars |
| 288 | KKCL | Kewal Kiran Clothing |
| 289 | THERMAX | Thermax |
| 290 | FINEORG | Fine Organic Inds |
| 291 | WIPRO | Wipro (Nse) |
| 292 | CHAMBLFERT | Chambal Fert.&Chems. |
| 293 | WENDT | Wendt India |
| 294 | 500147 | John Cockerill India |
| 295 | SHIVALIK | Shivalik Rasayan |
| 296 | GANESHBE | Ganesh Benzoplast |
| 297 | ZEEL | Zee Entertainment Ents. |
| 298 | MAYURUNIQ | Mayur Uniquoters |
| 299 | OMINFRAL | Om Infra |
| 300 | ABFRL | Aditya Fash.& Retail |
| 301 | CENTUM | Centum Electronics |
| 302 | EVERESTIND | Everest Industries (Nse) |
| 303 | TIMKEN | Timken India |
| 304 | WELCORP | Welspun (Nse) |
| 305 | SUZLON | Suzlon Energy (Nse) |
| 306 | 539515 | Quint Digital Media |
| 307 | IFCI | Ifci (Nse) |
| 308 | SAFARI | Safari Industries India |
| 309 | METROPOLIS | Metropolis Healthcare |
| 310 | IDEA | Vodafone Idea |
| 311 | AUTOAXLES | Automotive Axles |
| 312 | TV18BRDCST | TV18 Broadcast |
| 313 | AHLUCONT | Ahluwalia Conts.Ida. |
| 314 | PAGEIND | Page Industries |
| 315 | JKCEMENT | Jk Cement |
| 316 | SASKEN | Sasken Technologies |
| 317 | CCL | Ccl Products (India) |
Use full Links:
1 lakh to 1 Crore in stock market
Prokhata https://prokhata.com/
Social Media:
Facebook: https://www.facebook.com/prokhata/
Instagram: https://www.instagram.com/prokhata/
Twitter: https://www.twitter.com/prokhata/