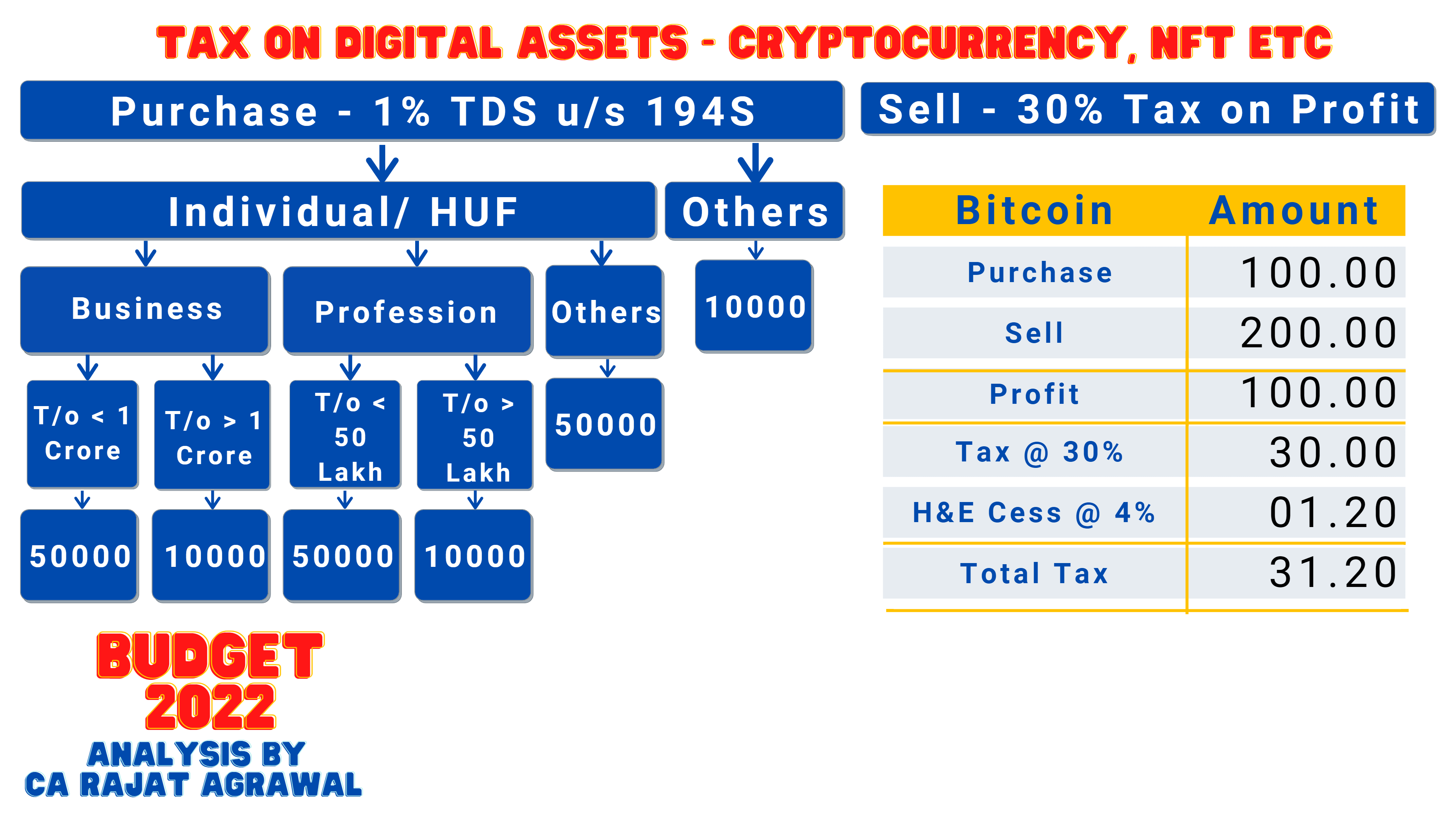 A big announcement was done during the Cryptocurrency Taxation. During the #Budget2022 speech, the finance minister announced that virtual digital assets including #cryptocurrencies will be taxed at a rate of 30% from 1st April 2022.
Secondly, TDS @ 1% u/s 194S on #cryptocurrency Purchase if you purchase #Crypto of ₹10,000/- or ₹50,000/- (See Video)
Budget 2022 Tax/TDS on Cryptocurrency, NFT and all Digital Assets in India
00:25 TDS on Purchase of Crypto
02:40 30% Tax on Sale of Crypto
This will create a havoc in the #cryptocurrency market, we will need more detailed guidelines on this.. Almost everyone dealing will have to deduct TDS and file returns
The definition of digital assets as per the Budget 2022 is as below.
"Any information or code or number or token (not being Indian currency or foreign currency), generated through cryptographic means or otherwise, by whatever name called, providing a digital representation of value exchanged …with or without consideration, with the promise or representation of having inherent value, or functions as a store of value or a unit of account including its use in any financial transaction or investment, but not limited to investment scheme; and can be transferred, stored or traded electronically;".
Cryptocurrency Taxation in India – Budget 2022
Below are the highlights from the Budget 2022 speech of the Finance Minister.
A flat rate of 30% will be levied on the income from virtual digital assets regardless of the tax slab Indexation of the gains is not allowed. losses or gains arising from digital virtual assets cannot be set off with any other gains losses cannot be carried forward Digital virtual assets will be designated as property for the purposes of gifting and will be taxable at the same rate in the hand of the recipient. No recipient will be excluded from taxation. However, these are the initial findings from the Budget 2022 speech. We have to wait for Finance Bill to be passed to get the clarity on this.